Summer Set
Wild fermented traditional sharp cider, made from a blend of crab apples, heirloom apples, and French bittersweet cider apple varieties. Available in 750 mL bottles or 1/6 & 1/2 BBL kegs.
2017 GLINTCAP Best In Class - Heritage Dry Category
Made from primarily two varieties of apple, Summer Set is a showcase of how complex the simple apple can be. The blend is comprised of Dolgo, a crabapple variety originating in Siberia, and Gravenstein, the national apple of Denmark; which was first planted on the West Coast in 1811. Dolgo is incredibly sour and tannic, and gives a bright and powerful tartness to the cider. It is mellowed by Gravenstein, a multi-purpose heirloom with softer acids and light tannins. French cider apple varieties are used for tannic balance and additional body. The cider was allowed to ferment naturally with the wild yeast found on the apple skins. The sharp acidity fades quickly into wonderful floral notes, with a semi-dry, balanced finish. Both Dolgo and Gravenstein are early apple varieties, and in 2016, our first year producing this cider, we were pressing and fermenting by the end of July. Summer Set is a fitting name for a cider from such early apples!
2017 Harvest - 7.1% ABV - Apple varieties: 40% Dolgo Crab, 40% Gravenstein, less than 5% of the following: Nehou, Medaille D'Or, Michelin, Muscadette de Dieppe, Vilberie, GoldRush, Golden Russet.
200 cases produced
2016 Harvest - 6.5% ABV - Apple varieties: 50% Dolgo Crab, 50% Gravenstein.
75 cases produced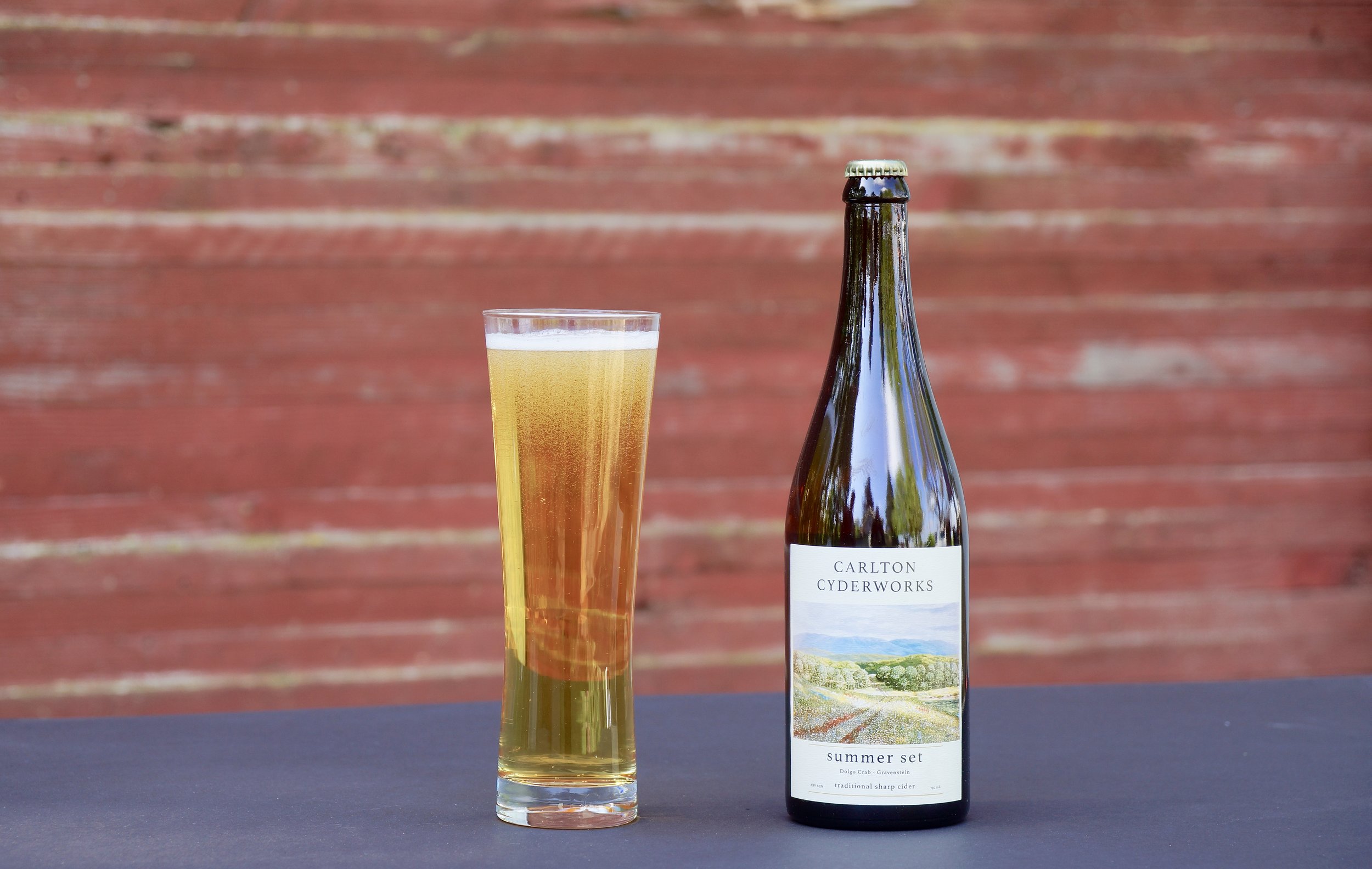 Gravenstein apples used in Summer Set. Grown in Marion County, OR.